MetaPhase Consulting joins ServiceNow Partner Program
MetaPhase joins the ServiceNow Services and Public Sector segments of program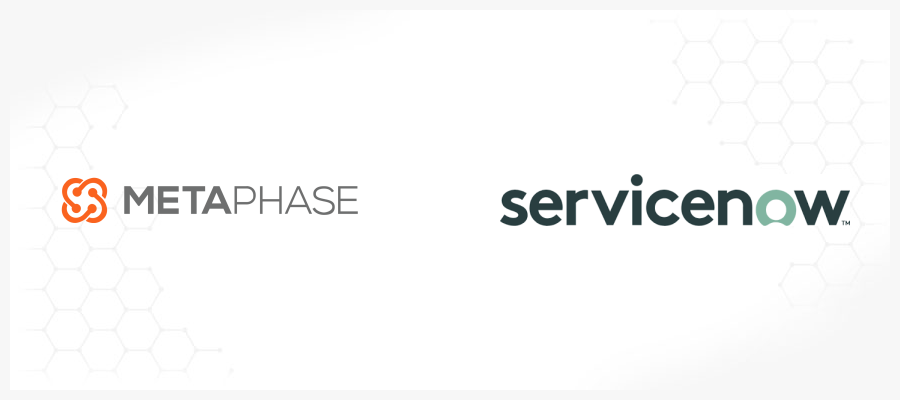 Washington, D.C. —  MetaPhase Consulting announced it has joined the ServiceNow Partner Program Services and Public Sector segments to expand support for ServiceNow implementations and bring the full support of the ServiceNow Partner Program to their clients. 
This new status will help MetaPhase continue to thrive at the intersection of business and IT. Helping both areas align so that they can accelerate the time-to-value on new IT initiatives, and deploy the very best, most practical solutions that make a real impact on the organization.   
"We're excited to officially join the ServiceNow Partner Program following our experience deploying the Now Platform for customers across the federal government." Said Fred Costa, CEO of Metaphase Consulting. "Our team has focused on establishing a process to rapidly onboard new use cases to increase the ROI, reduce redundant systems in the IT portfolio, and maximize investments an agency has already made with ServiceNow."
For more information, or to inquire more about a ServiceNow related partnership with Metaphase, please contact via email info@metaphaseconsulting.com.
ServiceNow, the ServiceNow logo, Now, Now Platform, and other ServiceNow marks are trademarks and/or registered trademarks of ServiceNow, Inc. in the United States and/or other countries. 
* * *
MetaPhase Consulting (MetaPhase) is an 8(a)-certified small, disadvantaged minority-owned consulting firm located in the Washington D.C. Metro area. We provide the capabilities of the 'Big 5' consultancies from which we were born – blending the best and brightest of large consulting firms with an empowered culture of client-focused service. We rely on decades of expertise providing professional services such as strategic communications, change management, software development, and data analysis for Federal clients. MetaPhase has achieved CMMI Maturity Level 3 ratings for Development (DEV) and maintains ISO 9001:2015 certifications. Find out more by emailing info@metaphaseconsulting.com.